---
About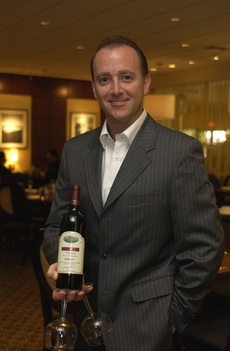 James Henry Dunne, J.D., M.A., B.A., A.A.S.
Education
Juris Doctor = Doctor of Laws, Touro Law Center
Master of Arts = Nutrition & Food Service Management, New York University
Bachelor of Arts = Psychology, Hofstra University
Associate in Applied Science = Restaurant Management, Nassau Community College
Hospitality Experience
14 years experience in hotel and restaurant operations, from Dishwasher to General Manager (and just about every position in between!) in both privately owned restaurants and hotels, as well as global corporate restaurant and hotel operations.
Current Positions
Attorney and Counselor-at-Law = Law Office of James Henry Dunne, Esq. View Here
President = Sv Dynamics Inc. (dba VinoU® and Service Dynamics™) View Here
Professor of Hospitality Studies = NYIT's School of Management (served 4 years as Chairman of the Department of Hospitality Studies and Assistant Dean of the School of Management) View Here
Published Book & Articles
Book = "Service Dynamics - Profitable Hospitality for the New Millennium" Kendall-Hunt Publishing, ISBN # 0-7872-7391-0 ©2000
Trade Articles = Multiple articles published from 2000 through the present View Here
Research Articles = Numerous articles published from 2008 through the present View Here
Professional Affiliations & Certifications
TIPS Certified Trainer (20th Year Active Trainer)
Western Suffolk Boces (Active Advisory Board Member)
Long Island Hotel & Lodging Association (Active Member)
New York Restaurant Association (Active Member)
---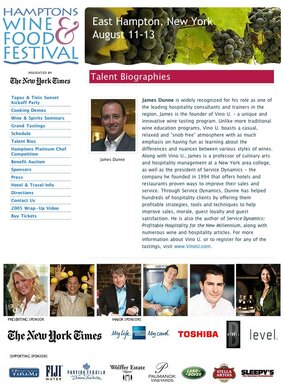 ---
VinoU® Clients

ALON MARKETING for WINE, WATER & WONDERS • NYC

AXA DEUTSCHE BANK • Several NY Area Events

DWS SCUDDER • Long Island

VANDERBILT SECURITIES • Long Island

UBS FINANCIAL • Several NY Area Events

VISION FINANCIAL • Several NY Area Event

+ Countless private tastings for family and group events ++ Over 1000 attendees at the VinoU® Wine School over the years! +Mystery Shopper Clients

DIVINE BAR • Manhattan

FORRESTAL HOTEL • Princeton, NJ

GIORGIO's • Baiting Hollow

JECKYL & HYDE • Manhattan

JFK CROWNE PLAZA HOTEL • Queens

LaGUARDIA CROWNE PLAZA • Queens

LaGUARDIA MARRIOTT HOTEL • Queens

LESSINGS Restaurants • Long Island

OUTBACK STEAKHOUSE • 4 NY Locations

PAN AMERICAN HOTEL • Elmhurst

RIHGA ROYAL HOTEL • Manhattan

UNION PACIFIC • Manhattan

UNITED NATIONS CROWN PLAZA HOTEL • Manhattan

Keynote & Guest Speaking Engagements

AMERICAN CULINARY FEDERATION

Monthly Conference • Long Island

HAMPTONS WINE & FOOD FESTIVAL
Food and Wine Celebrity Event • East Hampton

INTERNATIONAL HOTEL/MOTEL & RESTAURANT SHOW

Jacob Javitz Center • Manhattan

LONG ISLAND WINE EVENT

Nassau Coliseum • Hempstead

NATIONAL BAKER's ASSOCIATION

National Conference • Atlantic City, NJ

LONG ISLAND HOTEL & LODGING ASSOCIATION

Annual Conference • Long Island

NEW YORK STATE RESTAURANT ASSOCIATION

Chapter Conference • Long Island

SYSCO FOOD SERVICES FALL HARVEST SHOWCASE

Fall Showcase • Long Island

WILDLIFE CONSERVATION SOCIETY

Bronx Zoo & New York Aquarium • Bronx & Brooklyn

International VinoU

®

Engagements

HOTEL INSTITUTE MONTREUX • Montreux, Switzerland

IHTTI SCHOOL OF HOTEL MANAGEMENT • Neuchâtel, Switzerland

SOMO • Paris, France

UNIVERSITY OF NEVADA LAS VEGAS • Tasting guide through 10+ European countries

Service Dynamics™ Clients

ADELPHI UNIVERSITY • Garden City
ATLANTICA / TIERA MAR • West Hampton
ALMONDITO • East Hampton
B.K. SWEENEY's • 3 LI Locations
BELLA VERDE • Edgewood
BELLAGIO • Farmingdale
BEN's KOSHER DELI's • 7 NY Locations
BULLDOG GRILLE • Amityville
CAFE BACI • Westbury
CAFE LAGUNA • Long Beach
CAFE SPASSO • Carle Place
CASWELL's • Montauk
CHEQUIT INN • Shelter Island
CITY CRAB • Manhattan
COLD SPRING HARBOR LABS • Cold Spring Harbor
CORBIN & REYNOLDS • Long Beach
CROXLEY ALES • Multiple LI Locations
ELEANOR RIGBY's • Mineola
FAUNA • Aquebogue
FILLMORE's TAVERN • Fresh Meadows
FINNEGAN's • Huntington
GARDEN CITY HOTEL • Garden City
GEORGE MARTIN • Rockville Centre
GEORGE MARTIN GRILL FIRE • Merrick, Rockville Centre
GM BURGER BAR • Massapequa Park
HEMINGWAY's • Wantagh
HONU / BESITO • Huntington
JAMESON's • Floral Park
KNIGHTS OF COLUMBUS • Glen Cove
LEONARD'S • Great Neck
LESSING'S RESTAURANTS • 7 LI Locations
LIBRARY CAFE • Farmingdale
MacARTHUR PARK • Rockville Centre
MAX'S GRILL & TAVERN • Rockville Centre
MIM's RESTAURANT • 2 LI Locations
MOJO • Manhattan
NATIONAL BAKER's ASSOCIATION • LI Chapter
NICK D'ANGELO • 2 LI Locations
NOVITA • Garden City
PANCHO's • 3 LI Locations
PAPA JOE's • Deer Park
PAVILLION GRILLE CROWNE PLAZA LaGUARDIA • Elmhurst
PECONIC LANDING • East Marion
PERFECT LIFT • Hunter Mountain
POST OFFICE CAFE • Babylon
PRIDWIN HOTEL • Shelter Island
RAM's HEAD INN • Shelter Island
RUNYON's ROADSIDE • 2 LI Locations
SEN • Sag Harbor
SUBA • Manhattan
TOSCANA @ HOLIDAY INN SELECT • Lafeyette, IN
VICTORY SMOKE HOUSE • Garden City
VINCENT's CLAM BAR • Carle Place
VUE (at the Shelter Island Country Club) • Shelter Island
WATERZOOI BELGIAN BISTRO • Garden City
WESTCHESTER BROADWAY THEATER • Elmsford
WöLFFER ESTATE VINEYARD • Sagaponack
---
"The awakening to customer service and higher sales was tremendous. My servers had a great new approach with their tables.
It's an integral tool for training staff and management. I would highly recommend this training for any operator who wants to excel ..."
Rich Cutler MIM's RESTAURANT

"James performs a valuable service to the industry."
James Piciullo WATERZOOI / CROXLEY ALE HOUSE / NOVITA
"It was exhilarating! Not only did it help the staff, but it really helped me. It reminded me of what I should be looking for in the dining room.
I had never seen the staff so pumped up! I waitressed for years and still found things to learn . . ."
Linda Pirrone GEORGE MARTIN RESTAURANTS

"James' seminar proved very beneficial to our business. His lighthearted approach on turning negative customer,
staff and restaurant situations into positive money-making techniques really caught and held our servers interest.
Employees always seem more responsive when these ideas come from an "outsider."
Gary Steiner PANCHO's CANTINA & DUKE FALCON's RESTAURANTS

"We had James redo all of our menus. He designed a complete wine, beer and spirits program around my concept.
He trained our wait staff to understand food and beverage pairing and how to make suggestions to guests.
He then set up a training program so we could keep the momentum going . . ."
Anthony Carcattera PAPA JOE's & BELLA VERDE

"This is the best training meeting I've had here. I found it very educational and professional. It covered everything I know from my years of experience, but it also gave me ideas and knowledge for a better future in what he reminded us is a profession to take pride in."
Jon Carlos Bonet GARDEN CITY HOTEL
"We've used all of James' services monthly over the last two years. His Sales and Service Workshop is great for raising the standards of our veteran staff as well as establishing expectation for newcomers. His daily training program and staff manuals are implemented in each location . . . his wine training and wine list design had a huge impact on sales . . ." 

Jena Greco 
VINCENT's CLAM BAR

"Jimmy's talent, experience and enthusiasm for the hospitality business really shines through in his workshop.
He made what could have been just another boring training session into one where everyone participated. The morale of the staff definitely improved. I have used several of his ideas and they really work!" 

Christine Gelson 
GEORGE MARTIN RESTAURANTS

"An incredible experience . . . not just smoke and mirrors! A 'must' for the whole staff. A much needed service to the industry!"
Khaldoun Rabadi WATERZOOI

"I found this to be great! I can't wait to try out the techniques and use the knowledge to enhance my performance.
I felt the material was presented in a fun and friendly manner."
Sabrina Simpson 
HONU

"Superbly pertinent -- presented in a substantive and entertaining manner. James Dunne has walked the talk. I thought I knew it all. I learned a lot! Thanks . . . I would recommend you anywhere."

Linda Dodd 
GEORGE MARTIN RESTAURANTS

"I loved this workshop. Even as a server for years, I learned valuable lessons and tools to improve my sales and service. I recommend this to anyone interested in improving the quality of their work. Thank you." 

Erika Rafuls 
 WATERZOOI 



"I enjoyed myself so much that I lost track of the time and was amazed by how much I learned." 

Stuart Tracte
 GEORGE MARTIN RESTAURANTS

"No joke. He absolutely hit every aspect of how to improve the dining experience. Highly recommended for any business" 

Michael Magliola 
 GEORGE MARTIN RESTAURANTS 



"James' knowledge and professionalism leant itself to a very successful seminar.
My ability, attitude and, yes, check average have all increased since participating in his program! Thanks."
Linda McGrath
 GEORGE MARTIN RESTAURANTS

"Personally, I think I'm a great server, but I didn't know how much I didn't know until this session. I'm excited to try these techniques and earn more!"
Katie Postel
 CORBIN & REYNOLDS

"The course is helpful in that it teaches servers to be positive and to care about what they are doing.
In most restaurants the attitude is extremely negative...but not at Ben's. This will help us bring it to a new level."

Stephen J. Pequillan
 BEN'S DELI & RESTAURANT

"The course exceeded my expectations...I feel that James was excellent. He knew the subject exceptionally well and made it fun!"
Jaime Friedman
 BEN'S DELI & RESTAURANT

"James made a potentially boring meeting enjoyable. He has a great personality and I actually learned some new techniques."
Anthony Morgan 
BEN'S DELI & RESTAURANT

"It was great. I think every restaurant in NYC should take this class!"
Maria Bautista
 BEN'S DELI & RESTAURANT

"I had no expectations. In fact, I was wondering what I could possibly learn after waiting tables for twenty years, but I learned something new!"
Antonia Georgopoulos 
BEN'S DELI & RESTAURANT

"Very informative. Kept me interested...even at 7:00am!"
Stacy Schneider
 BEN'S DELI & RESTAURANT



"It gave me a lot of suggestions for selling more and being more helpful to customers. It was perfect for our business and will definitely help me be more comfortable on the floor and to understand our customers."
Juan Lepuz
 BEN'S DELI & RESTAURANT

"I think this class was extremely beneficial to all of us and helps us to better understand the "Psychology" of waiting on tables"
Greg Wahlice
 
VINCENT's CLAM BAR

"I initially thought that it was ridiculous that, as a host, I would have to go to this meeting. I have to say that it was definitely beneficial and pointed out so many things that I never would have even realized affected customers. Thank you."
Kathleen
 
VINCENT's CLAM BAR

"Very informative in a relaxed and enjoyable environment"
Allison Murphy 
MacARTHUR PARK

"I felt the presentation was very informative. Yes, we know all of this, but it was excellent to go over it. It would be wonderful for our entire staff."
Bambi Interligi
 ATLANTICA

"Thanks for an incredible experience.
I think every staff needs to have these meetings on a regular schedule to help them remember how to better serve guests."
Janine Flugmacher
 CROXLEY ALE HOUSE

"It was early and I was tired and Jimmy kept my attention the entire time. He was very informative and equally entertaining.
He deserves every penny he receives for his services."
Kat DiStefano
 WATERZOOI

"You know what you're talking about...and what we go through...your experience shows. Your ability to relates to the staff keeps it interesting."
Fred Ruehman 
WATERZOOI

"I have been a server for 8 years. The material presented needed to be reinforced because it is all about the extra dollar!"
Tania JAMESON's

"I think it is a great course, especially for people with little or no experience.
Even if people have been in the business a long time, they are sure to learn something new."
Yoni Brandstetter JAMESON's

"You were great, funny, adorable, and experienced. I really enjoyed the lecture."
Jennifer Martino
 GEORGE MARTIN RESTAURANTS



"Dunne is very knowledgeable of every aspect of the restaurant industry in terms of professional service. A workshop that could have been drudgery was made interesting and actually fun. I would recommend that every restaurant seek his services."
Matt Erickson 
GEORGE MARTIN RESTAURANTS

"I think any restaurant owner would be a fool not to bring Jimmy Dunne in at least once a year. It would be the best investment they could make in their restaurant...making both the owner and themselves more money as well as helping increase regular clientele."
Charles Lunenfeld 
GEORGE MARTIN RESTAURANTS



"Very positive, very well organized, professional and helpful. The three hours flew by!"
Jason Kern 
RUNYON's



"Very knowledgeable and taught me (18 years experience) things to be used towards higher earnings -- Thanks!"
Teri Zetterberg
 RUNYON's

"Your interaction with the staff really meant a lot. Especially the raffle!
The lecture was thorough and touched a variety of aspects in the restaurant industry."
Maureen Piccoli 
RUNYON's



"The trainer made a 3 1/2 hour presentation fly by with his humor and stories chock full of valuable experiences."
Jeanette Lees 
RUNYON's



"James, you are the best and I will be sure to tell other people about you."

Maria Hoyos
 RUNYON's

"I was surprisingly impressed and entertained. I am an extremely positive person to start with, but you made me want to go out and be even more so. I'm ready to sell that Veal Chop along with a bottle of wine!"
Sherry Joy Bieder 
RUNYON's



"All aspects of the business were thoroughly covered in great detail with easy to understand questions and answers . . . you did a great job and I really appreciate your time and effort in teaching us to be better servers."
Bernie Martin 
GEORGE MARTIN RESTAURANTS


"Very informative. Jim has done his homework. Not bad as a refresher. Probably would or should be used as a beginning training course."
Jerry Albig
 BK SWEENEY's

"I found the seminar helpful and I can't wait to try these new and useful hints for both waitressing and hostessing."
Kathy Fives
 BK SWEENEY's



"Great stories...great examples...great interaction!"
Dave Neyman 
PANCHO'S RESTAURANTS

"At least waking up on a Sunday morning wasn't topped off by a trainer with the personality of a dead fish!
You were fun and that's who learn from -- fun ones!"
Karen Greenbay 
CAFE SPASO



"It was helpful that you were a waiter yourself. It made it much easier for us to relate to you."
Joseph Mendolia 
WATERZOOI

"I have been employed here for eight years. Needless to say, we have had many meetings and this is by far the most beneficial three hours ever spent at Mahoney's. Whether I stay here, or eventually move one to another restaurant, I will be sure to use all of your techniques to the fullest."
Maureen Bodo
 MAHONEY's